Adult Spiritual Formation

We believe the call to Christian discipleship is an exciting, lifelong journey!
That journey begins as we are claimed by God and marked by the Holy Spirit at our baptism.
We renew our fellowship with Christ as we participate in the sacrament of the Lord's Supper.
We grow in our walk with the Lord as we are intentional about regular worship, a devotional life of bible study and prayer, fellowship with other Christians, service in the name of Jesus, and, deliberate commitments to continuous learning and deepening of God's call on our lives.
Our Adult Spiritual Formation team equips and empowers people to live their faith and provides opportunities  to grow in our discipleship.
We desire to make disciples who increasingly understand their faith commitment not as a compartmentalized facet of their lives, but rather, as the foundation and core of who they are seeking to become in Jesus Christ. Come grow with us!
To learn more  contact  Marlene Moffett at marlene.moffett(at)norotonchurch.org, our administrative assistant in this area of ministry.
---
 

On March 4-5 at Noroton Presbyterian Church, renowned pastor and bestselling author Timothy Keller shared his thoughts on how to truly experience awe and intimacy with God through prayer. Listen to his comments via audio links.

 

 
---
---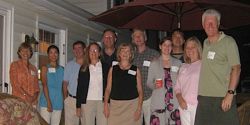 Small Groups are groups of 8-12 people from the community who meet at least twice a month for Christian fellowship, bible study, and prayer. The vision for Small Groups in our church is to create an environment where Christ-Centered, Biblically based Small Groups multiply and grow naturally and perpetually.
---