PREPARING YOUR CHILDREN
FOR WORSHIP 
No matter where you go with your children, it's important to manage expectations  So, just like long plane rides or family road trips, worshipping as a family IN THE SANCTUARY needs some preparative work from parents so that the outcome for everyone is positive.  Here are some tips:
Talk with your children before you get there as to what you expect of them.  Remind them that being in the Sanctuary is a privilege and that we want them to be there with us.
Lay out some ground rules. Like "Use your inside voice" and use the Worship Bag if they get fidgety
Hold the Bulletin at their level and use your finger to guide them through the songs and prayers.
Tell them you expect them to participate or actively listen during WORDS OF WONDER - the moment the children gather with Ms. Mickie before leaving for Horton Hall Huddles (Sunday School) 
Like any worshiping experience, or any important family gathering, the more one prepares for it, the more one gets out of it.  Don't expect that your children will automatically know what do.   "Set the Table" for this time as a family.   I'm excited to see you there.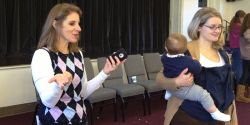 Volunteering for Sunday School and other events.
---
Need some parenting advice with raising your children?
---
---