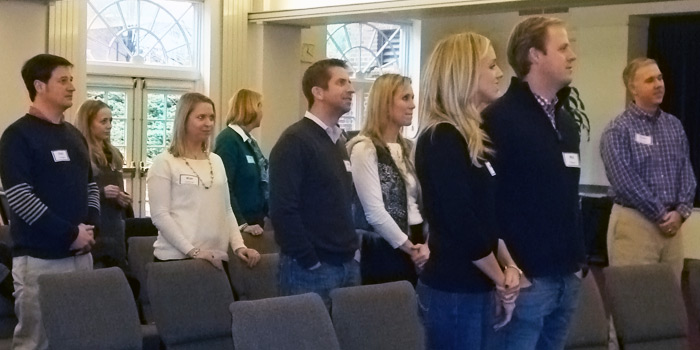 New Members FAQ

What is the Significance of Membership?
1 Corinthians 12:14-18 tells us that God arranges the members of His Body according to his plan.  Each of us has an important role; no role is more important than any other.  We are all spiritually connected to one another.
People seek out a church for many reasons, such as finding answers to difficult questions, deepening faith, being part of a supportive fellowship, and providing religious education to children.
Members have made an intentional commitment to bond covenantly to each other and the church in a faith community.   Membership starts a relationship with a pastor and provides connections to programs for a family.  Membership also opens up opportunities to serve at certain levels of lay leadership in the church.
Why Have a New Member Class?
You are making a commitment to a faith and a church family; it's important to know the values and principles of the fellowship you are joining.
The class creates a common starting point for people joining from various faith backgrounds and at different stages of their faith journey.
We want members to hear how they can deepen their faith in Christ at NPC.  This may be new or different from the emphasis of your previous church (Presbyterian or other).
Churches that ask more of members coming in the door find fewer leaving.
What Happens at the New Member Class?
Classes are interesting, faith-deepening and fun!  Here's what recent new members have said about the class.  Each class offers an opportunity to:
Praise God through prayer and song

Strengthen faith and knowledge through teachings by the pastors on what it means to be a Christian, a disciple of Christ, a Presbyterian and a member of NPC

Build community with others in small group discussions, where you can ask questions and share your faith journey

Enjoy fellowship with all the participants, pastors, volunteers and staff

Learn more about NPC's  ministries and how to get involved from Elders and team leaders
If you choose to join the church, you will take your membership vows  in front of the Session (Elders) at the end of the class. You will also be introduced to the congregation in worship on the Sunday following the last class, usually at the 10:30 service.
Here's what recent new members have said about the class:
 "I found the class to be very thorough and informative."
"I thought the program was both edifying and fun."
"What a great experience. We met some really nice people and felt very welcome. The format was perfect with the large group discussions and then the break off to smaller groups."
"I think it was a great time to gather.  I am thankful to be part of this new family and grow stronger in my relationship with Christ, but more importantly to bring others into this family as well."
These are the membership vows for the Presbyterian Church:



Q. Who is your Lord and Savior?
A. Jesus Christ is my Lord and Savior.

Q. Do you trust in him?
A. I do.

Q. Do you intend to be His disciple, to obey His word and to show His love?
A. I do.

Q. Will you be a faithful member of this congregation, giving of yourself in every way, and will you seek the fellowship of the Church wherever you may be?
A. I will.
When is the Next New Member Class?
Classes are scheduled every few months but may be adjusted depending on class size.
​2017
October 21, 2017 - 8:45 am - 12 noon 

New members will be welcomed into the congregation the next day, usually at the

10:30

service. (Attendance for the welcoming is optional but encouraged.)
Who Can I Contact?
If you'd like more information on membership, have concerns or questions, or would like to reserve a spot for the next class, please contact Marlene (marlene.moffett(at)norotonchurch.org or 203-309-5620).  Click here to complete a registration profile for the New Member Class.
How Can I Volunteer to Help with the Class?
Remember when you took your own membership vows and how you felt then?  It's a special time when you take another step closer to Christ.
Many talents are needed for each class such as hospitality, photography, small group facilitation, and leading music.
Volunteers who help with the New Member Class consistently say how fulfilling and rejuvenating it is to get to know those joining, to learn about their faith backgrounds and family, and to be part of the team that welcomes them into discipleship at NPC.
Please contact please contact Marlene (marlene.moffett(at)norotonchurch.org or 203-309-5620) to find out the different ways you can grow your own faith through service to new members.