Caroline King 'Ori Maina – Life Ministry
(Kenya, Africa)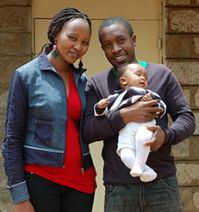 Caroline is a young evangelist with Life Ministry Kenya, serving as a mentor, teacher, friend and counselor to first year college women as they proceed on their Christian journey.  She works with an affiliate of US based Campus Crusade for Christ on the campus of Kenyatta University.
When the university is not in session she goes with students and other Life Ministry leaders to spread the good news to remote locations both inside and outside Kenya. In 2011 she spent six weeks in Swaziland training leaders at the university there.
In Caroline's own words, "I have had the privilege of leading many students to Christ, disciplining Christians and seeing some commit to being disciples on campus and beyond. My vision, as I do evangelism and discipleship among university students, is to shape future leaders of integrity and a society transformed by God's love and power."
Caroline is married to Paul, who also is an evangelist with Life Ministries, and they have two daughters, Tehillah and Emunah.
For more information about Life Ministry visit www.lmkenya.org