you can post your tax deductible gift at www.cm2g.org, or mail your gift to:
Christian Mission to Gaza
255 E. Santa Clara Street, Suite 100
Arcadia, CA 91006
Thank you so very much for your partnership, your prayers, and your generous financial support.

---


Hanna Massad
(Amman, Jordan)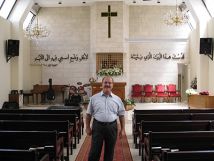 Hanna ministers to Christians living in the largely Islamic Gaza City.  Asked why, he answers , 'We believe God called us to. We believe His promises that we are not alone, He is walking alongside of us. Also, because we have good friends like you who encourage and care about us."
Hanna is a native of Gaza City. Four years after graduating from Gaza High School, he felt God call him into the ministry. He received his BA degree from Bethlehem Bible College and his master of divinity degree from Fuller Theological Seminary.  He has been actively ministering since 1999.
Hanna, his wife and two daughters live in Amman, Jordan where he ministers to a church of over 200 Iraqi refugee families. He also teaches at the Jordan Evangelical Theological Seminary. Hanna helps to arrange short term mission trips for US doctors to come and help provide trauma and crisis counseling and other medical needs.
Hanna also regularly travels to Gaza to serve the poor and needy (Christians and Muslims), providing food, medicine, and support and encouragement through preaching, pastoral visits and prayers.  He helps pastor the Gaza Baptist Church, teaches in the Gaza Bethlehem Bible College Extension, and supports the Gaza Lighthouse School. Hanna is also ministering to the hundreds of Iraqi and Syrian refugees who have fled the persecution of ISIS, providing them with practical material help and spiritual comfort and hope.
Hanna and family are spending June 2016/17 on sabbatical living locally in Wilton. 
For more information about Hanna Massad's ministry, please visit http://www.cm2g.org/