Feed My Straving Children

Feed My Starving Children is a Christian organization committed to feeding God's children hungry in body and spirit. The approach is simple: children and adults hand-pack meals specifically formulated for malnourished children, and we ship the meals to nearly 70 countries around the world. 
Each fall, over 1,000 local volunteers of all ages come together at Middlesex Middle School to pack over 200,000 meals for starving children around world .   NPC, 9 other Darien churches, and the Council for Darien School Parents partner with Feed My Starving Children (FMSC) to host these weekend packing events.  Since the event started in 2009, we have packed over One Million, eight-thousand nine hundred and thirty-six Mannapack rice meals!  Praise and thanks to God!
For more information about FMSC, visit its website at www.FMSC.org .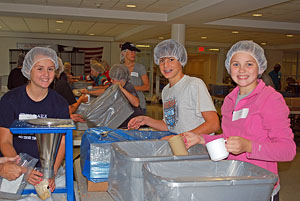 WAYS TO SERVE: The next mobilepack event is scheduled for October.  Members can serve by being part of the team that plans and organizes the event, volunteering to hand-pack meals, or by providing financial support.