THE OPEN DOOR SHELTER
(Norwalk)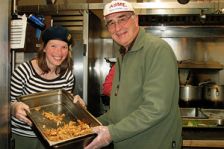 The Open Door Shelter provides short term housing for about 100 people daily.  Its Manna House kitchen and pantry provide three meals a day, every day—60,000 meals per month.  Through these and other programs, ODS strives to address the causes and complexities of the homeless and working poor.
The mission of Open Door Shelter is to effectively address the causes and complexities of the homeless and working poor by providing shelter, food, clothing, case management services, treatment services, transitional planning for short and long term goals, subsidized housing, education, employment, and a path towards independence and success.
In addition to its short-term shelter facility, Open Door Shelter also operates a number of private residences, providing supportive housing to those who are working but unable to afford housing in the area.  Its Hope Works job training program is intended to get at the root cause of homelessness: unemployment. This program combines job training, computer training, life skills coaching as well as job placement services to help residents get back to a life of independence and self-reliance.  Visit the Open Door website for even more information [insert link to ODS Website]
WAYS TO SERVE:
Be part of a team serving meals at the Manna House Soup Kitchen
Participate in periodic food and clothing drives – dates will be announced in Noroton Notes.
To get involved, go to the SERVE page of the NPC website.