City of Hope - Tanzania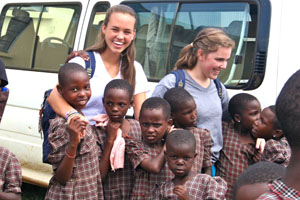 Teamwork City of Hope's aim and mission is to redeem and save young people who have been forgotten by life, those whose dreams have been squashed and broken as AIDS, chronic poverty, illiteracy, and lack of education take their toll. This project is about bringing hope to communities and to nations while changing lives for the better.
City of Hope transforms lives by:
Giving children skills for life through education and training
Bringing health care to a region that has none
Building economies through micro-financing and farming
Conceived in the heart of Dr. John N. Chacha, the first City of Hope is being built through a partnership with community leaders in western Tanzania. It is located in Ntagatcha village in Western Tanzania, about 45 miles from Lake Victoria, near the border of Kenya.  For more information, visit its website at www.teamworkcityofhope.com
NPC supports City of Hope financially and through the ministry of presence and service—several members periodically visit and serve the community on short term mission trips. For more information contact NPC Mission Team Liaison Burt Palmer at burt.palmer(at)gmail.com.