THE CARVER CENTER (Norwalk)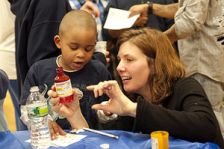 The Carver Center helps children reach their greatest potential by providing educational, social, and recreational programs in a positive, safe and fun environment. 
The Carver Center serves at-risk children in grades K-12 and their families. Its mission is to build lifetime achievers by focusing on academic achievement, a key to breaking the cycle of poverty.  Last year, 100% of Carver's graduates attended college. Check out their website at www.carvercenterct.org.
Service Opportunities
In addition to financial support, NPC members support Carver Center by volunteering to serve
Career Fair for Middle and High School students (annual event held in January): Some volunteers help organize the event.  Other volunteers explain their careers and answer student's questions about their careers.
Mother and Others Dinner (annual event held in May): Volunteers help organize and/or serve at this celebration of Carver families.
Thanksgiving Food Drive (annual event held in November):  Provide the gift of a Thanksgiving Meal to one of 200+ deserving Norwalk Families by helping organize or participate in the annual Food Drive.
For more information, contact Trisha Ryan at pmr49(at)att.net.