Vivian Wambui Koigi at The PUEA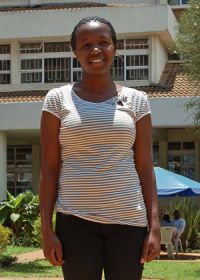 Vivian is studying law because she wants to empower people in society with knowledge about their rights and to help with the dispensation of justice to all, regardless of their status or background. She is in the 2nd semester of the 2nd year of the Law Program at PUEA.
Vivian and her family have lived in Kikuyu, the area in Nairobi that is just north of PUEA, for twenty years. Since parents are separated, she and her younger brother have been raised by their mother.
She attended and completed Ruthimitu Primary School in Nairobi in 2005 with grades high enough to earn her a place in Kijabe Girls' High School with a partial scholarship provided by the Forum for African Women Educationalists, Kenya Chapter.
She was accepted into PUEA in and began her studies there in May, 2011.  She expects to complete her studies in 2014.  She is a member both of the Law Club and the Presbyterian University Environmental Club – and she plays badminton and netball.