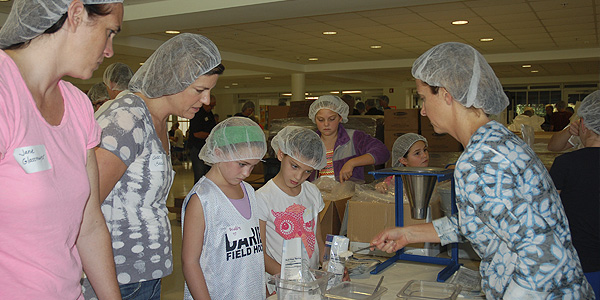 Feed My Starving Children MobilePack

You can now sign up online for the Darien FMSC MobilePack
  which takes place
Sept. 30 and Oct. 1
! 
There are several different 2 hour shifts to choose from.
Please consider supporting the
M&M fundraiser.
.. tubes of M&M's will be distributed after services today.  Please fill tubes with $14 in quarters or notes or checks to help towards the goal of $44,000 to pack 200,000 life-saving meals!  You can also donate by check or on the FMSC website online. This is a great opportunity for all the family to be involved in loving and serving God and our neighbors.  For more information contact Alison Smith
or Ginna Yerrall
(Darien FMSC Team leader)


Gather with 1,000 of your Darien neighbors to help pack 200,000 meals for starving children around the globe.  
WHO:  Anyone aged 5 and up.  The FMSC MobilePack tm is a great way for small groups, life groups, or NPC teams to serve together!  This event is hosted by NPC, 8 other Darien churches, and co-sponsored by the Council for Darien School Parents.
WHAT:  Volunteers can do any of a number of different jobs during their two-hour shift:
Be on a packing team that measures, weighs, and bags each rice meal

Be part of the warehouse crew, delivering supplies to packing teams and boxing bagged meals into shipping containers

Be part of the labeling team, affixing ingredient labels to food bags.
WHEN:  September 30 - October 1, 2017 -  Two hour shifts throughout the weekend.
WHERE:  Middlesex Middle School
HOW DO I SIGN UP?
Sign ups for the packing event:  The site will be available on September 2017.  Mark your calendar in the meantime!